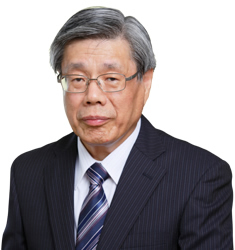 It has been 50 years since Okaya Seiken Co., Ltd. was founded in 1963. I greatly appreciate loyal patronage given from our customers and local communities.
Environment surrounding companies has drastically changed in these 50 years. While we have experienced several economic whirlwinds and many natural disasters, we have firmly moved through with desire of future prosperity. Such buildup has been as long as 50 years. However, this is just a passing point.
We will conduct research on new processing technology and further improve productivity for the next stage, and will all make effort to become the better partner for our customers than ever.
In recent years, economics has rapidly become globalized and the manufacturing industry has come into the stage that we had never experienced before. Okaya Seiken will meet a challenge to keep up with such globalization.
We will aim for the " company with value," understand our important customers' needs faster than anyone, and seek for further deepening of high-precision processing technology to supply products of high product force satisfying more customers.
Also as corporate mission, we will give consideration to environment and advance forward as one in order to continuously be the company always trusted by our business partners and many other customers for development of local communities and industry.
Your continued support and patronage will be greatly appreciated. Mitsuaki Komatsu, President